The Bozeman-Yellowstone International Airport has been the busiest Airport in Montana since 2013 [LINK], and it's not hard to understand why. The Airport itself sits right on the doorstep of Yellowstone National Park, the Big Sky Resort, and so many awesome destinations.
In many ways this makes the Bozeman Airport unique. For such a seemingly small airport to get such a large amount of traffic is something you rarely see. And it is an incredible boon for our community. As it bring in new customers that help stimulate our economy!
BUT this also brings some challenges to the airport as well. Challenges that need to be considered when planning your trip through our beautiful airport.
Tip #1: Give Yourself Time
The first challenge that you might run into when arriving is that the Bozeman-Yellowstone International Airport is a notoriously slow airport. Not only is it common for people to be stuck taxing for longer than they might at other airports but it isn't uncommon to take 20 minutes or longer to get your bags from baggage claim.
Our tip? Give yourself time between the airport and your next destination.
It's really that simple! A great rule of thumb is that getting out of the Airport will take you about 45 minute to an hour. Don't sweat. Take a quick walk around our beautiful airport and take in some of our awesome displays. Like this awesome T-Rex Skull (shown below) which is on-loan from Museum of the Rockies Montana State University.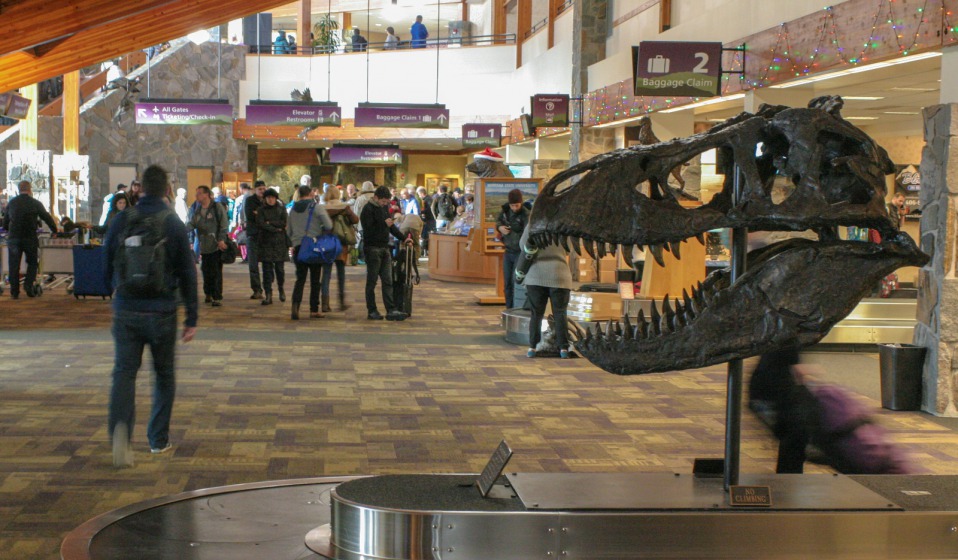 Tip #2: Car Rental Services at the Airport are ALWAYS Booked
One of the reasons we started our Rental Business in Mid 2021 is because we were getting calls from SO MANY PEOPLE stuck at the Airport who had ZERO options for rental vehicles. People so desperate that they were starting to call Car Dealerships to see if they offered rental services.
The Airport Car Rental services are hard to get into especially during busy seasons if you haven't reserved your car before hand. Plus, even if you're able get into a rental vehicle they are overpriced and their vehicles aren't cleaned 🤢.
Our Tip? Easy! Reserve your vehicle TODAY with us. We are the fastest growing rental company in Bozeman and we strive to give people ROCKSTAR service at a great price from incredible Rental agents like me! PLUS. Even though we are not AT the airport we offer affordable airport pick-ups so you don't have to sit and wait at the airport for an uber.
Tip #3: Yellowstone is Farther than You Think.
One thing we have come across a LOT is the misconception that the Bozeman-Yellowstone International Airport is right on the edge of Yellowstone. While this would be convenient, this is for from the truth. Montana is a large state with a good share of driving between our airport and most destinations.
Our Tip? Depending on how late you are arriving in Bozeman, consider staying in Bozeman one night before driving to your next destination. Not only do you get to enjoy your drive through our beautiful state BUT you can also check out awesome Bozeman Restaurants (check out our must try restaurants in Bozeman)
TIP #4: Give Yourself MORE Time!
This piece of advice may seem similar to Tip #1, but it quite the opposite of #1. When you are arriving for your departure flight back home, give yourself more time than usual ESPECIALLY on busy days of the week (Monday/Friday/Saturday/Sunday). The reason for this is because the TSA is smaller than many large airports and can get clogged up.
I have seen people miss their flight because they thought an hour prior would be enough.
Our Tip? Get there about an hour and 45 minutes before BOARDING. Remember, smaller airport doesn't mean less wait it just means more.
---
Closing Thoughts
Our closing thoughts? The Bozeman-Yellowstone International Airport is one of my favorite airports in the world. It's classy, cute, and above all else the only airport that has a T-REX in it.
Just remember to plan around your experience there. Give yourself time. Enjoy your time in Bozeman. And most importantly, give us a call at (406)500-7368 if you need a reliable Rental Car with affordable daily rates!
---
You Make the Plans. We Help You Get There!
These tips were written by Mac Palin, a Trip Advisor with Rent-A-Car Montana in Bozeman, if you need a reliable rental vehicle give us a call or reserve today!